CCW Beef Promotion Activity Reporting:   Click here! 
Congratulations Junior National Beef Ambassador Angelee Dowling!  Read more about it –  Click here!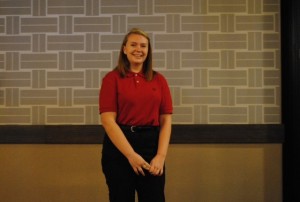 Photo of Angelee Dowling – who honors California with National Beef Amabassador Recognition!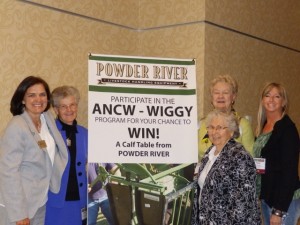 CCW won the ANCW Wiggy Contest at the Cattle Industry Summer Conference in Denver, CO.  – President Sheila Bowen, ANCW President Melanie Fowle, and CCW members Judy Ahmann, Jean Barton and Paula Bassett celebrate the great job done by all of the California Units!
California also celebrates our other ANCW recognized achievers: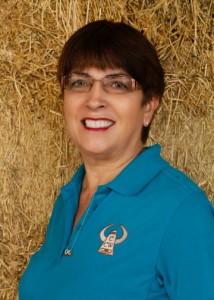 Barbara O'Connell, a Glenn/Colusa County CattleWoman, was selected as the ANCW Outstanding Educator of the Year.  

Glenda Rankin, a Kern County CattleWoman, was chosen as the ANCW Outstanding Promoter of the Year.  
Another great event promoting beef in the community was held by Tehema County Cattlewomen – Beef and Brews was another successful showcase of the best chefs promoting the best of beef.  The brews were a great side and compliment to our product,  too!  
To read more about this event, click here
.  Warning – wonderful beef photos enclosed!!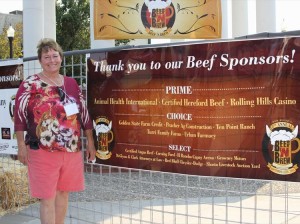 Photo:   Cathy Tobin, co-chair of the Beef 'N' Brew / Photos from redbluffbeefnbrew.com
President's Message – 
CCW President's Message
Hope you all had a fantastic summer.  As an organization CCW has had a rewarding year.  California CattleWomen won the ANCW Wiggy Contest sponsored by Powder River.  We will receive a calf chute that can be raffled, sold, or auctioned as a fundraiser for our organization.  This award was announced by Brad Stouwie from Powder River at the Beef Industry Summer Meeting in Denver, Colorado.
Barbara O'Connell, a Glenn/ Colusa CattleWoman, was named the ANCW Outstanding Educator of the Year.
     Glenda Rankin, from Kern County, was named the ANCW Outstanding Promoter of the Year.
These ladies both have very strong resumes and generously use their ranches as outdoor classrooms to teach others and promote ranching.
John and Judy Ahmann (Napa/Solano) were honored with the first annual Environmental and Economic Equilizer Award.  California State Board of Equilization member, Fiona Ma presented the Award at the CCA legislative breakfast.
     Jerry and Sherry Maltby (Glenn/Colusa), owners of the Broken Box Ranch, were named the Seed Stock Producer of the Year at the spring meetings of the American International Charolais Association.
Dina Moore (Humboldt), Connie Watson (Placer/Nevada), and Melanie Fowle (Siskiyou) received Common Threads North Awards for their contributions to agriculture and the communities in which they live.
CCW has a new fundraising opportunity.  During the CCW Midyear Meeting, Kelsey Cheda from Lifeline explained that Lifeline is offering a coupon to customers for two of their equine supplements.  CCW has the opportunity to earn money for each of the coupons turned into Lifeline that were provided by California CattleWomen.  Contact me, or one of the local unit presidents for more information.
The CCW Bylaws and Policies and Procedures were updated by a unanimous vote of the Board Of Directors at the Midyear Meeting.  An important change is the new deadline for having the CCW memberships into the state.  The roster and dues need to be into the CCW membership chair and treasurer by November 15th.  The updated Bylaws and Policies and Procedures can be found on the cattlewomen.org website under members only.
This past summer, I toured two meatpacking facilities: Harris in California and JBS in Colorado.
It was impressive how clean and efficiently run they are, and how important each job inside the plant is to the success of the operation.  After seeing first hand how U.S. meat is processed I am reassured that the United States has the safest food supply in the world.  Great effort and attention to detail go into insuring food safety and quality at both of these packing plants.
I hope to see many of you at the convention in Sparks, Nevada November 19th – 21st.  We will learn how to use Constant Contact as a communication tool, have a leadership presentation by Susie Magnusen, and get a legislative update from Justin Oldfield to name just a few of our scheduled events.
Did You Know?
American National CattleWomen leaders are working hard to make the national organization bigger and better than ever.  ANCW will begin offering monthly educational webinars.  The first webinar will be September 21st.  Veal will be the topic.  The webinars will be the third Monday of each month.  All ANCW members are invited to log on and join in on the webinars.
Condolences
Nadette Raymond Ott's husband, Walter passed away on July 5th.  Nadette was the CCW treasurer for sixteen years.  Anyone wishing to send Nadette a note can send it to:
Nadette Raymond Ott, 5078 Balls Ferry Road, Anderson, California  96007
On a personal note…
On January 27 and June 7th my family welcomed Luke Michael and Ellie Rose into the world.  Luke is the sixth and Ellie is the seventh of our grandchildren.  They are part of the seventh generation of California cowboys and cowgirls in our family.  As CattleWomen, our kids and grandkids are a reminder of why we as CattleWomen do what we do.  Our efforts help to insure the longevity of cattle ranching for our posterity and for our state.  Welcome to the outfit, Luke and Ellie!!!
 – By Sheila Bowen, CCW President
Tehama County Fundraiser is coming up!  Great event for a great cause – and a passion close to the heart of all CCW members, providing scholarships!  Event cominG JANUARY 9, 2016.  FOR MORE INFORMATION, CLICK HERE
Yes, Cattlewomen really work!  And the view from the office is fabulous!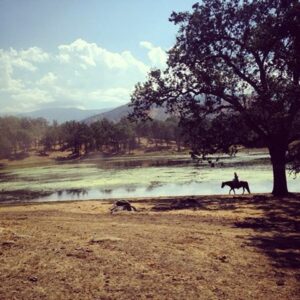 CCW President Sheila Bowen at her day job.  Photo credit goes to her son Matt Bowen, who was working with the family that day at the Carver Bowen Ranch, Kern County.
*** Updated Bylaws and Updated Policies and Procedure are now posted on the Members Only Page***** 
Meet your 2015-2016 CCW Officer team
2015-16 CCW Officers.  L-r Melody Lake, treasurer;  Paula Francis,
secretary; Cheryl Foster, 1st vp;  Sheila Bowen, president
Standing:  Leslie Joost, 2nd vp; Kathy Vignolo-Knight, northern director;
Anna Reed, 2nd vp;  Millie Krause, central director;  Susan Cochrane,
southern director;  not pictured:    Rebecca Been,  2nd vp;  Tammie
McElroy, parliamentarian. 
Sign Up for our Email List: