CCW Beef Promotion Activity Reporting:   Click here!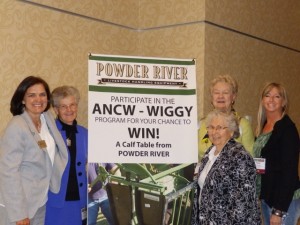 CCW won the ANCW Wiggy Contest at the Cattle Industry Summer Conference in Denver, CO.  – President Sheila Bowen, ANCW President Melanie Fowle, and CCW members Judy Ahmann, Jean Barton and Paula Bassett celebrate the great job done by all of the California Units!
California also celebrates our other ANCW recognized achievers:  Barbara O'Connell, a Glenn/Colusa County CattleWoman, was selected as the ANCW Outstanding Educator of the Year and Glenda Rankin, a Kern County CattleWoman, was chosen as the ANCW Outstanding Promoter of the Year.  Check back for photos – hint, hint!
President's Message Spring 2015
– By Sheila Bowen, CCW President
This has been a busy and productive spring.
The March Spring Meeting at the Harris Ranch Inn had a great line-up of speakers.  Ann Cochrane ran a very informative workshop.  My thanks to her and all who attended.  It was a unique opportunity to meet and mingle with the California Women for Ag.  The tour of the feedlot was very interesting.  It was a privilege to have had this opportunity.  We finished the tour well informed about this aspect of cattle production.
The By-laws and Policy and Procedures Committee has been busy going through these documents with proposed revisions that reflect current needs and practices.  My thanks to Sherry Maltby for leading us through this process and for all the work she has done to prepare for this newsletter.  Please take a few minutes to read through the proposed revisions.  We will be discussing them and voting on the proposed changes at the June meeting. Please contact me at *protected email* if you would like to see a copy of the proposed revisions to the Policy and Procedures prior to the June Meeting.  The proposed revisions to both documents have already been sent electronically to the board of directors for their review.
If these revisions are adopted, there will be a new delinquent date by which to have membership dues and rosters to CCW.  The deadline will be October 1st each year as it has always been.  The delinquent date will change from December 31st to November 15th.  It will be important to have all of our units working cooperatively with CCW to get membership in by this date.  In doing this we will have this important task taken care of before the holidays arrive and people get busy with family celebrations and end of year obligations.  It will allow the membership chairs of each unit to enjoy the holidays without worrying about getting the membership dues collected.
CCW will be conducting a workshop at the mid-year meeting to go over membership issues, deadlines, penalties, and other important membership information. In addition to the Membership Workshop, there will be a Treasurer's Workshop and a Bayer Beef Promotion and Education Books Workshop at the June meeting.  Please encourage and enable your unit's treasurer, membership chair, and Bayer Beef Promotion and Education Book chair to attend this very important CCW June meeting.  The information presented will be of great benefit to them and to all of our members.
The state Beef Ambassador Contest will be held on April 25th in San Jose.  Jill Bright and her committee are hard at work preparing for this event as are the contestants from around the state.
County presidents have been busy recruiting additional members for our local and state organizations.  We are trying hard to qualify for the WIGGY Contest and to showcase all that California accomplishes through our volunteer efforts across the state.  As we compile your activities, I continue to be impressed with all that you ladies accomplish.  The WIGGY contest ends on April 30th.  The report will be completed in May and sent to ANCW. There will be copies of it at the June meeting. CattleWomen do creative, productive, and educational projects every month in our communities across the state.  So proud to be associated with so many awesome women.
April 29 – May 1 is the Region VI Meeting in Tucson, AZ.  We will be discussing some important topics within ANCW in addition to hearing speakers and conducting business.
CCW now has an easy way to report Beef Promotion Activities.  By going to our website, cattlewomen.org, any member can report a beef promotion event by clicking on the tab, CCW Beef Promotion Reporting, on the front page of our website and filling out a brief survey.  By clicking the DONE tab the survey is submitted to the Beef Promotions Chair.  It takes about two minutes or less to complete.
CCW now has a Constant Contact account.  With this technology we will be able to communicate more easily with our membership and with committees and groups within CCW.  We are in the process of loading the information we need into our account in order to move forward with this helpful communication tool.
The Powder River Panels Raffle for 2015 is now underway.  Powder River has generously donated fifteen twelve foot fencing panels.  The money raised will benefit CCW and our Memorial Scholarship Program.  The tickets have been given out to each local unit.  The goal is to have each unit sell books of tickets equivalent to the number of members they have.  If your unit has 100 members, please sell 100 books of tickets.  A book of five tickets is $20.00. Individual tickets are $5 each.  Please bring sold ticket stubs and money to the June Meeting and turn them into Amanda Barrett. She will have additional tickets available. She will also be announcing incentives for getting tickets in before the November convention.
We extend our condolences to the family of Gretchen Johnson.  Gretchen was president of California CattleWomen in 2005-2006. She will be missed by her many CattleWomen friends.
Did You Know?
Two CCW members, Dina Moore from Humboldt County and Melanie Fowle from Siskiyou County, received the Common Threads Award for their ag leadership accomplishments.  They were honored on April 16 at a luncheon in Chico, CA.
Did you Know?
97% of cattle ranches in the U.S. are family owned. Milk, cattle, and calves are among the top 5 valued commodities in California. Lean meat is the food supply's most readily available and easily absorbed source of iron and zinc.
Please plan on coming to the June Meeting, June 11-12.  Stand Strong, Ladies!
Lassen County Cattlewomen – making the connection!!  
Our photo of the month! Attendees from  Lassen county took this photo at the CCW /CWA meeting held at Harris Ranch.  Their local paper loved it!  Way to share beef, your local Cattlewomen unit and CCW with your community Lassen County Unit ladies!
***Bylaw Updates and Policies and Procedure Updates are now posted on the Members Only Page***** 
Congratulations 2015 California Beef Ambassadors!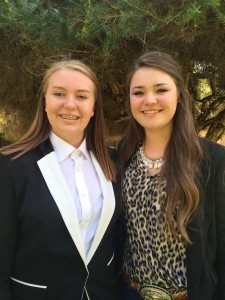 Meet Jr Beef Ambassador Angelee Dowling, Siskiyou Co.,  and Sr. Beef Ambassador Abbie Grisedale, Kern Co.
As in years past, the competitors for Beef Ambassador are knowledgeable and passionate about our favorite subject – BEEF!   All competitors bring their best every year to this competition.  Winning at the State level is quite an accomplishment, and we look forward to hearing about great things to come this year.
Sr. runnerup is Hayley Kaae, Siskiyou Co.  and Jr. runnerup is Emyli Palmer, Tehama Co.
Meet your 2015-2016 CCW Officer team
2015-16 CCW Officers.  L-r Melody Lake, treasurer;  Paula Francis,
secretary; Cheryl Foster, 1st vp;  Sheila Bowen, president
Standing:  Leslie Joost, 2nd vp; Kathy Vignolo-Knight, northern director;
Anna Reed, 2nd vp;  Millie Krause, central director;  Susan Cochrane,
southern director;  not pictured:    Rebecca Been,  2nd vp;  Tammie
McElroy, parliamentarian.