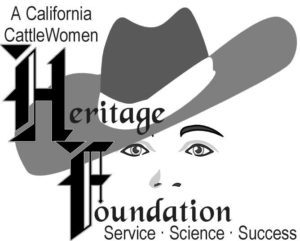 The California CattleWomen Heritage Foundation is a 501(c)3 nonprofit public benefit corporation. Our mission is the advancement of leadership education, and to assist in the promotion of agriculture and beef through education and science.
Established in 2001, A California CattleWomen Heritage Foundation, 501 (c) 3  exists to aid in fundraising efforts by providing a means of working with generous donors that would like to aid in efforts by making a designated tax deductible donation.  Grants and donations may be made for the advancement of educational endeavors, exploration and science, for creating greater public awareness and understanding of agricultural production and agricultural products in relation to the cattle industry.
A CCW Heritage Foundation was established to assist with projects in the following areas:
Beef Education/Promotion

Beef Scholarship/Grant

Beef Leadership Advancement 
If you would like to see if  A California Cattlewomen Heritage Foundation can assist with your project or fund raising efforts,  please complete and submit the Project Request Form.   Once your form is received a representative of the Foundation will be in touch to discuss your project and if it fits the criteria of the Foundation.
To learn more about A CCW Heritage Foundation please review Our Purpose.
To make a donation to A CCW Heritage Foundation, please print our Donation Form and submit the completed form with your donation check.
Please Contact Us for more information concerning A California Cattlewomen Heritage Foundation.