California CattleWomen Beef Ambassadors Through the Years
Congratulations 2015 California Beef Ambassadors!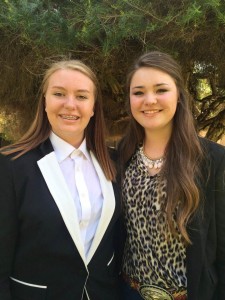 Meet Jr Beef Ambassador Angelee Dowling, Siskiyou Co.,  and Sr. Beef Ambassador Abbie Grisedale, Kern Co.
As in years past, the competitors for Beef Ambassador are knowledgeable and passionate about our favorite subject – BEEF!   All competitors bring their best every year to this competition.  Winning at the State level is quite an accomplishment, and we look forward to hearing about great things to come this year.
Sr. runnerup is Hayley Kaae, Siskiyou Co.  and Jr. runnerup is Emyli Palmer, Tehama Co.