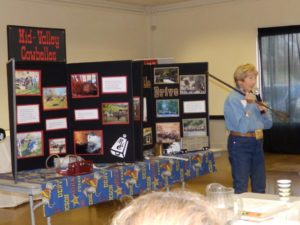 Award winning Beef Promoter Pat Sheppard showing us her Raising Beef on the Ranch resources for students!  Spring Meeting 2018
Use Beef Promotion forms for events targeting the general public. Examples would be Fair displays, World Ag Expo, Farm to Fork, nutrition aimed at persons over 18..
Quick Beef Promotion Ideas:
CattleWomen members can promote beef by talking about upcoming celebrations and holidays!
Mother's day is right up Mom's alley!  Women need beef for iron and zinc, two nutrients that women need to stay healthy and energetic.  Help Mom get over her fear of beef!
Looking for that special gift this Father's Day? Consider Beef! It's a practical gift that's also delicious and nutritious.
Grilling is great with Beef
Pairing – wines, brews or other foods with beef is a great way to expand menu ideas