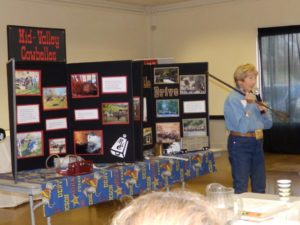 Award winning Beef Promoter Pat Sheppard showing us her resources for students! Spring Meeting 2018
Beef Promotion Resources
CattleWomen members can promote beef by talking about upcoming celebrations and holidays!
Mother's day is right up Mom's alley! Women need beef for iron and zinc, two nutrients that women need to stay healthy and energetic. Help Mom get over her fear of beef!
Looking for that special gift this Father's Day? Consider Beef! It's a practical gift that's also delicious and nutritious.
Just three ounces of lean beef provides 51% of the daily value for protein, 38% of the zinc and 14% of the iron, and other essential nutrients.
Our favorite consumer link for complete cooking instructions, recipes and nutritional facts for beef is the Beef It's What's For Dinner website.